Hi Everyone!
I am so excited to share my Me Made Halloween 2018 costume with you all! I have been planning this costume for a few months now, and after some sketching, draping, and finding the (almost) perfect fabrics I was able to pull it together and wear it during our 2nd annual Halloween party.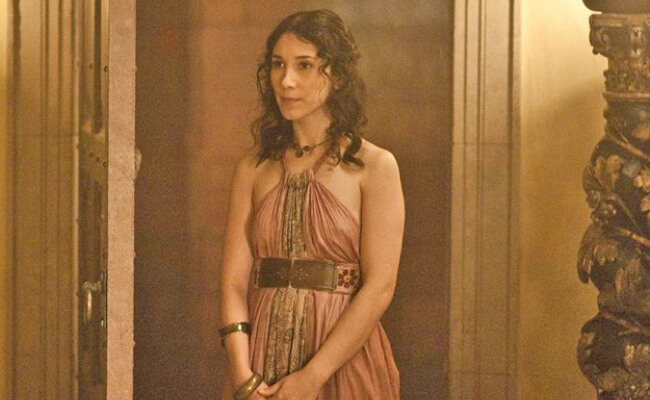 This costume was inspired by Shae from Game of Thrones. The handmaiden gowns she wore in the show are absolutely stunning. I decided to make this costume for Halloween this year so that I could also wear it in the future to attend Renaissance faires.
Now, I say *almost* perfect fabrics above because I was hoping for fabric a bit lighter and earthier looking, like rayon or a lighter linen. My main fabric ended up being a bit heavier and silkier than I would have liked, but I thought it still ended up great.
Here are a few photos of my creation process – from sketch to muslin to finished object! This was my very first time making something completely self-drafted and creating a muslin.
The most difficult part of creating this outfit was figuring out how this dress was created with one continuous piece of fabric. I had to recruit my husband and his engineer mind to help me figure it out. I ended up having to sew fabric together (see the seam in the back?) because I couldn't find fabric wide enough. I would have preferred not to have the seam there, but sometimes you just gotta work with it!
Thanks for checking out my handmade Halloween costume! I am hoping to make some other Game of Thrones inspired dresses, so share your favorite dress from the show and maybe I'll create that next!